Petronas Twin Towers, Kuala Lumpur
Race to the finish
The Malaysian government specified that construction be completed in six years. To meet the deadline, two building consortiums were hired – one South Korean, one Japanese – with each responsible for one of the towers. The first to finish would win the right to build the skybridge. The South Korean crew claimed victory by completing Tower 2 (the east tower) first.
Skybridge
The double-deck skybridge that hangs between the towers at the 41st and 42nd floors is not directly attached on either end. Instead, it is designed to slide in and out as the towers sway during high winds. It also helps support the swaying towers. The skybridge, 192 ft long, is supported by arches that are bolted to level 29 of each of tower.
The lower level is open to the public, but tickets are limited to about 1,000 people a day. The upper level is reserved for the towers' tenants. The skybridge connects a conference room, an executive dining room and a prayer room.
Quick facts about the Petronas Twin Towers
At 1,483 ft, the towers were the first buildings outside the United States to claim the title of the world's tallest, succeeding the 1,450-feet-high Willis Tower in Chicago. They remain the world's tallest twin towers.
When Tower 2 reached the 72nd floor, engineers discovered it was leaning about 25 millimeters off vertical – or nearly an inch. To correct the lean, the next 16 floors were slanted back 20 millimeters. Surveyors checked verticality twice a day until the building's completion.
Built over a former racetrack, the Petronas Towers also include shopping and entertainment facilities, a petroleum museum and a concert hall that is home to the Malaysian Philharmonic Orchestra.
6 World's tallest building

---

1998 - 2004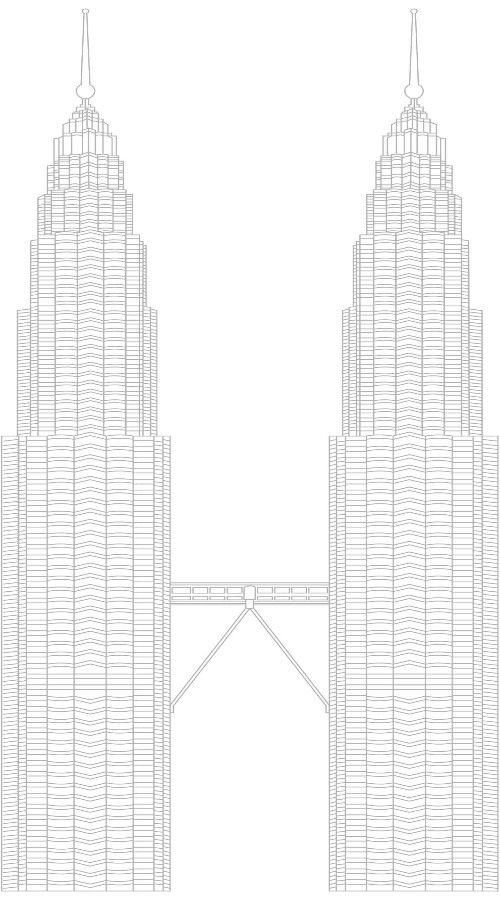 Node Name: OMUSCMSLFRPAP04