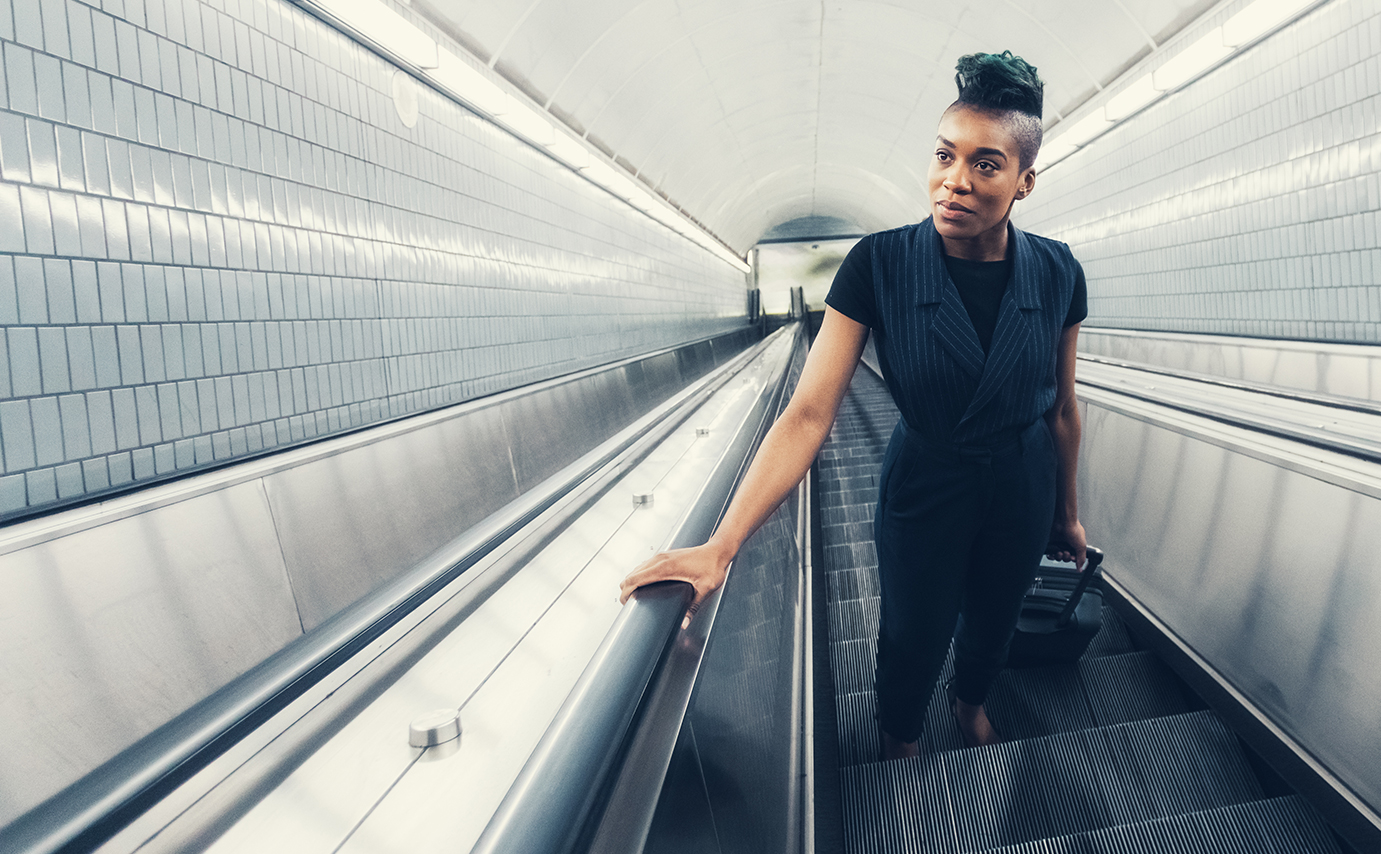 Escalators & Moving Walks
Commercial/Public
Whether it's our passengers, our customers or our colleagues, we put people at the center of everything we do
Link™ Escalators &
Moving Walks
Refined yet resilient, moving customers and tenants in ways that guide and delight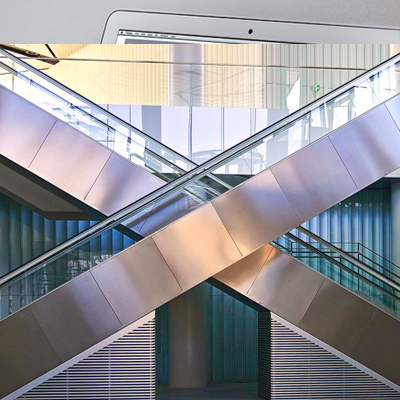 BUILT TO LAST

CUSTOMIZED FOR YOUR BUILDING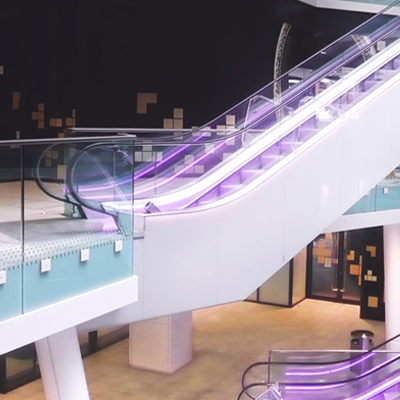 INTEGRATED ILLUMINATION
Our escalators are safe, reliable and designed to integrate seamlessly with your building. Our moving walks are engineered to be whisper quiet and smooth. Both are custom-made to complement your building's unique environment.
Escalators




Max rise height: 13 m at a step width of 1,000 mm

---

Inclination: 30° / 35°

---

Nominal step width: 600 mm / 800 mm / 1,000 mm (contract base available)

---

Speed: 0.5 mps
CONFIGURE WITH OTIS CREATE
Moving walks




Max length: 80 m

---

Inclination: 0° up to 6°, 10°, 12° (special request 11° available)

---

Palette widths: 800 mm / 1,000 mm

---

Speed: 0.5 mps

---
Public escalators & moving walks
Effortlessly handling the heaviest traffic, year after year
Designed to meet the extreme and varied demands of public spaces such as airports, metros and busy transport hubs, our escalators and moving walks raise the bar for endurance and reliability. You can expect at least 20 years of efficient, safe service without downtime from our products in classic public 'hot spots'.
Escalators

---

Max rise height: 20 m at a step width of 1,000 mm (special request up to 40 m available)

---

Inclination: 27.3° / 30° / 35°

---

Normal step width: 800 mm / 1,000 mm

---

Speed: 0.5 mps / 0.65 mps / 0.75 mps

---
Moving Walks

---

Maximum length: 120 m (special request up to 140 m available)

---

Inclination: 0° up to 6°

---

Palette widths: 1,000 mm / 1,200 mm / 1,400 mm

---

Speed: 0.5 mps / 0.6 mps / 0.75 mps

---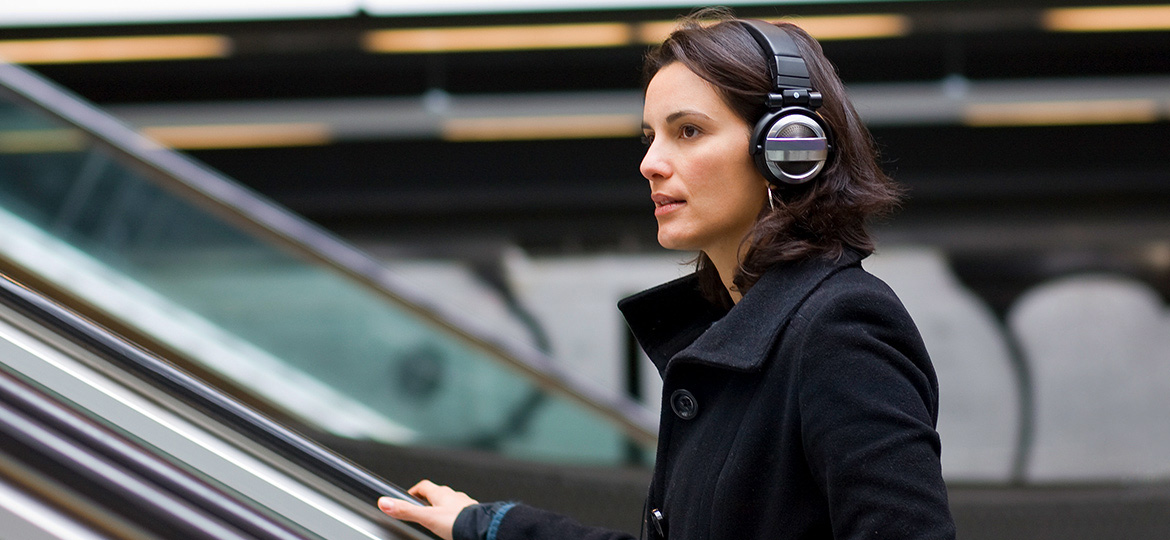 The beauty of design
Gone are the days of being hidden from view; today's escalators and moving walks take pride of place in public and commercial spaces. They help define the way people experience these buildings.
At the forefront of safe, reliable technology
From design to manufacturing, we strive to keep you safe and moving.
Graceful lines
Style and substance merge perfectly in our escalators and moving walks. The elegantly tapered handrail entry box minimizes the risk of passenger contact. The sweeping lines of our elongated newels give passengers more time to grasp the handrail before getting on.
Integrated illumination
Energy-efficient LEDs offer a choice of colored lighting for handrails, balustrades and skirt panels. Traffic flow lights give passengers subtle directional cues.
Architectural flexibility
With one of the widest selections of finishes for steps, balustrades and railings, our products are designed to harmonize with and enhance any building or project.
Going above and beyond
When it comes to safety, just meeting code is not enough. The sheer breadth of our additional features stand testament to our dedication to your safety. Employing the very best materials and precision engineering methods, we provide failsafe freedom of choice.
1 Acrylic wedge guard deflectors

---
2 Increased height anti-fall balustrade

---
3 Painted yellow demarcation lines

---
5 Rounded step nose (4 mm radius)

---
6 Anti-climb barrier panels

---
7 Black or aluminium profile brush guards

---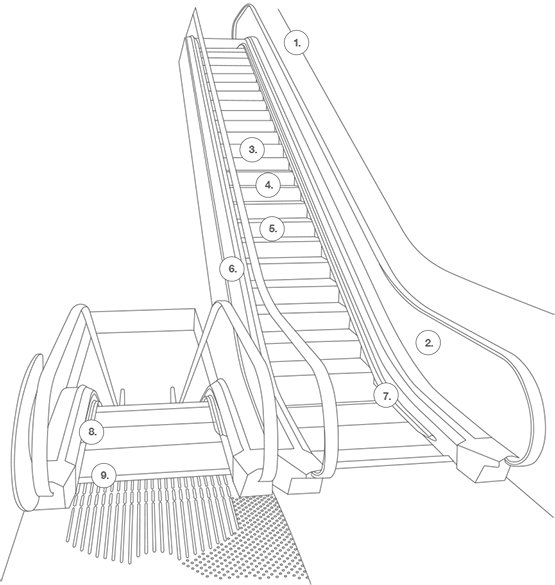 Enhanced monitoring
Our unique Multifunction Escalator Safety Device [MESD] exceeds code safety requirements. An advanced electronic safety system activates brakes quickly and consistently when it detects an issue.
Smarter design
Our handrail entry box design provides exceptional levels of safety and strength. Its tapered design minimizes the risk of passengers touching the deflectors, while safety brushes gently guide passengers away from the skirt panels. The skirt panels themselves reduce friction to stop objects from getting caught.
We Know Quality
Every three days, our lifts and escalators transport the equivalent of the world's entire population; we care deeply about each and every person.
1 Unmatched construction

---

Otis escalators® use rectangular steel trusses to increase their strength. Seal welds protect them against internal corrosion.
2 Rigorous testing

---

Escalator steps are subjected to dynamic load testing – not only 5 million times as normally required, but 20 million times. All our facilities conduct step breakage tests too, ensuring step quality and durability.
3 Step chain assembly

---

We use a computerized assembly jig for precise alignment of the tension carriage, track system and main drive.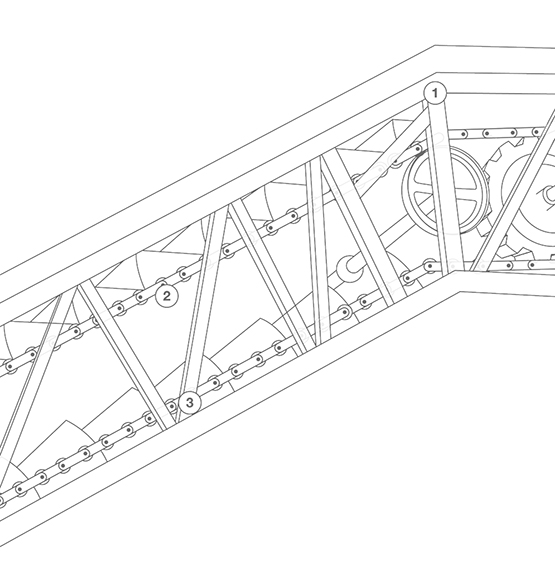 Sustainable sophistication
Our escalators and moving walks embrace sustainability. Our smart lubrication system uses up to 98 percent less oil than manual lubrication systems. Sleep mode operation plus LED lighting further reduce energy consumption. In addition, the ReGen drive captures energy when the escalator travels in a downward direction, returning it to your power grid.
60% LESS POWER CONSUMPTION THAN ESCALATORS WITHOUT REGEN DRIVES
98% LESS LUBRICATING OIL CONSUMED THAN CONVENTIONAL SYSTEMS