eView™
In-car display
Sleek, stylish and easy to use, the eView display offers entertainment, car functions, information, system monitoring and emergency call technology.
In one sleek, stylish display you get passenger entertainment, clear lift operation information, system monitoring and emergency call technology
The eView in-car display simply offers unique opportunities to connect with your passengers on every journey.
DOWNLOAD FACTSHEET
1 Inform

---

The eView display shows lift direction, location and destination plus date and time.
2 Entertain

---

Your passengers are connected to their world, their chosen country and personally customisable news feeds – with freedom to stream what they choose.
3 Customise

---

Using eService, building managers can customise the eView display design templates, layouts and content.
4 Integrate

---

With 3G for reliable connectivity and a single phone line for both emergency calls and data transfer, the eView in-car display integrates simply and seamlessly into the lift's control panel.
5 Monitor

---

The eView display integrates with the Otis REM® system, checking hundreds of system functions.
6 Connected/Linked

---

The eView in-car display provides a unique live video link option to one of our highly trained customer service experts. It simply delivers the human touch.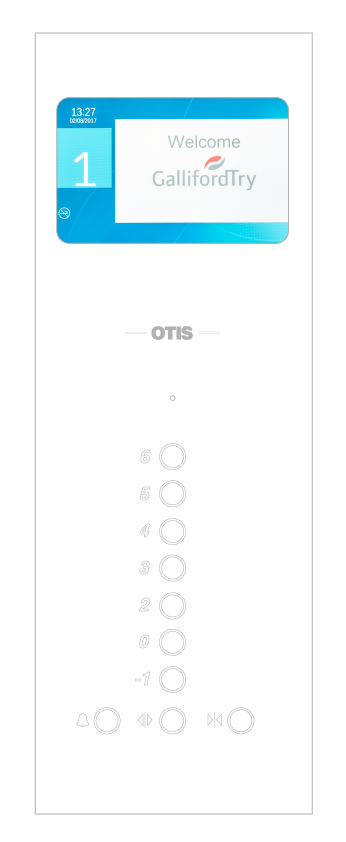 Customise the experience
The eView in-car display isn't just about technology: it's about people. Engage your passengers with the information, entertainment and design that inspires.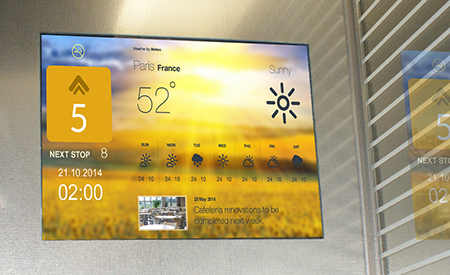 Choose
With the base package, the eView in-car display automatically displays weather information and trivia.
Our premium package brings building managers a diversity of content such as world news and sports from world-class broadcasters.
Customise
You can customise screens with two layouts and numerous background options to make the most of your content. Every screen in your building can have an individual custom look, so if you have 20 screens, why not have 20 alternative, eye-catching layouts?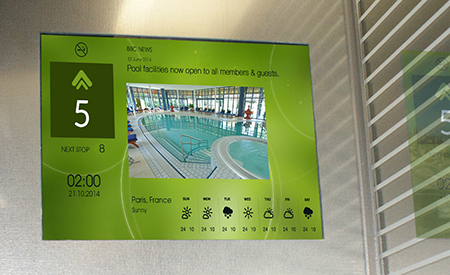 Connect
Customised on-screen notices bring building news straight to visitors and tenants. Playlists and time screen functionality deliver different content through the day.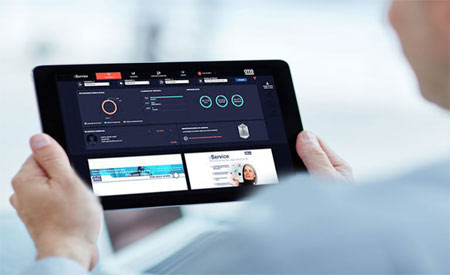 Manage
Manage and fine-tune your content from your smartphone, tablet or laptop anytime – on the move or at your desk.
Innovative solutions
From calling a lift by smartphone to comprehensive service, we have a host of creative solutions built to suit your needs.
eCall™
Your own personal lift button
The eCall smartphone app puts lift control at your passenger's fingertips. Now anyone can call a lift remotely from anywhere in the building, using their personal devices.
Remote Lift Monitoring
Maximise performance, minimise downtime
Remote Lift Monitoring [REM] tracks hundreds of lift functions on systems around the world. When it senses a problem, this vital innovation diagnoses the cause, pinpoints the location and automatically makes the service call – your system is quickly back in action.
eService
Service tasks and management made simple
With 24/7 remote access to your lift through your computer, tablet or smartphone, you'll be able to easily view performance data, place service calls, handle invoices, preview the latest upgrades, and manage eView and eCall systems.
OTISLINE® call centres
No matter where you are in the world, you can get in touch with the OTISLINE call centre 24/7, for free. With more than 1,000 trained service professionals on call, our customer service representatives can have a mechanic on the way to your building within minutes.
Gen2® Life
Routine made exceptional
With the Gen2 Life system, your passengers' regular routine become an experience that delights.