Gen2® Stream
Max Rise 120m
Founded on performance. With the Gen2 Stream lift, we elevate performance to meet your business needs.
Introducing The Gen2® Stream Lift
A perfect solution for commercial buildings, the Gen2 Stream elevator offers a blend of elegant design and global engineering expertise. Your passengers will enjoy the style, comfort and speed, allowing them to experience your building to the fullest.
DOWNLOAD BROCHURE
2,500 kg
MAX DUTY LOAD (8 to 33 passengers)
3 m/s
TOP SPEED
24
MAX STOPS
120
MAX RISE
1 Compact Lift Component

---

The Gen2 Stream system's compact lift components fit inside the hoistway and eliminate the need for a machine room. This saves construction costs and frees up valuable floor space for your design vision.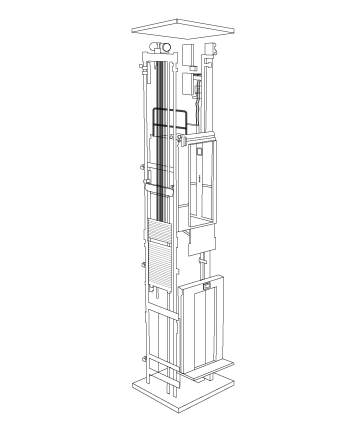 Design That Evokes
Rich textures and classic materials form our exclusive design packages. Enhance the experience for every passenger with more than 400,000 custom options. Creativity knows no boundaries. Explore these options through our CabCreate™ design portal.
Connect To Convenience
Technology makes life better. The Gen2 Stream lift puts high-performing, energy-efficient technology at a tenant's fingertips, while providing information that educates, entertains and directs.
Superior Movement
Transforming the way we travel with the Gen2 system
Your building's greatest asset is its people. As the world constantly changes, so must our technology. The Gen2's enhanced design keeps us moving forward, providing faster and smoother journeys through all buildings. Experience every ride in genuine comfort, with reliability at the heart of our performance.
Swift Movement
High-performance door operators and superior car acceleration allow passengers to enter and exit elevators more quickly.
Low-noise Gearless Machine
Mounted on rubber isolation pads, the low-noise gearless machine reduces vibration and minimises noise in adjacent rooms.
Coated Steel Belts
Our patented smooth polyurethane coated steel belts last twice as long as conventional steel ropes, without any lubrication.
Confidence In Reliability
Built exclusively at our ISO-certified European factories, the Gen2 Stream system is a perfect blend of Otis reliability, quality and advanced design. We're very proud of the exceptional performance it delivers, day after day.
Pulse™ system
Maximising safety and minimising downtime, the Pulse system provides constant monitoring of the Otis patented coated steel belts.
Your Maintenance Program
We take a proactive approach to service, so you enjoy 24-hour monitoring, highly trained mechanics and a speedy global parts network.
Automatic Rescue Operation
In the event of a power failure, the battery powered Automatic Rescue Operation system safely delivers passengers to the nearest floor.
OTISLINE® call centres
OTISLINE call centres connect you to our round-the-clock customer service. A direct video link can give you peace of mind that help is on its way.
Made In Otis
Manufactured in Europe
Our products and services are engineered to exceptional standards, no matter what type of building it's installed into. From home dwellers to travelers throughout Europe and by supporting the globe's tallest and most innovative buildings, the team in our Gien factory perform a world class service.
Moving With Efficiency
Designed to maximise energy efficiency, the Gen2 system demonstrates our commitment to sustainability
The ReGen® Drive
Recycles energy and provides clean power for other building systems to use – the Gen2 elevator reduces overall energy consumption 75 percent under normal operation compared to conventional geared, non-regenerative systems.
Long-life LED Lighting
Reduces energy consumption and lasts up to 10 times longer than conventional fluorescent lamps.
Sleep Mode
Lights and fans shut down when not in use, and seamlessly restart with the press of a call button. Sleep mode makes the LED lighting 75 percent more efficient than conventional systems.
Zero Lubrication
The Gen2 machine and coated steel belts do not need additional lubrication, eliminating lubrication-related storage, cleanup and disposal of hazardous waste.
Gen2
Solutions in motion
Gen2 lifts blend convenience, style and performance to deliver a new passenger experience that adds value to your building.
Node Name: OMUSCMSLFRPAP02