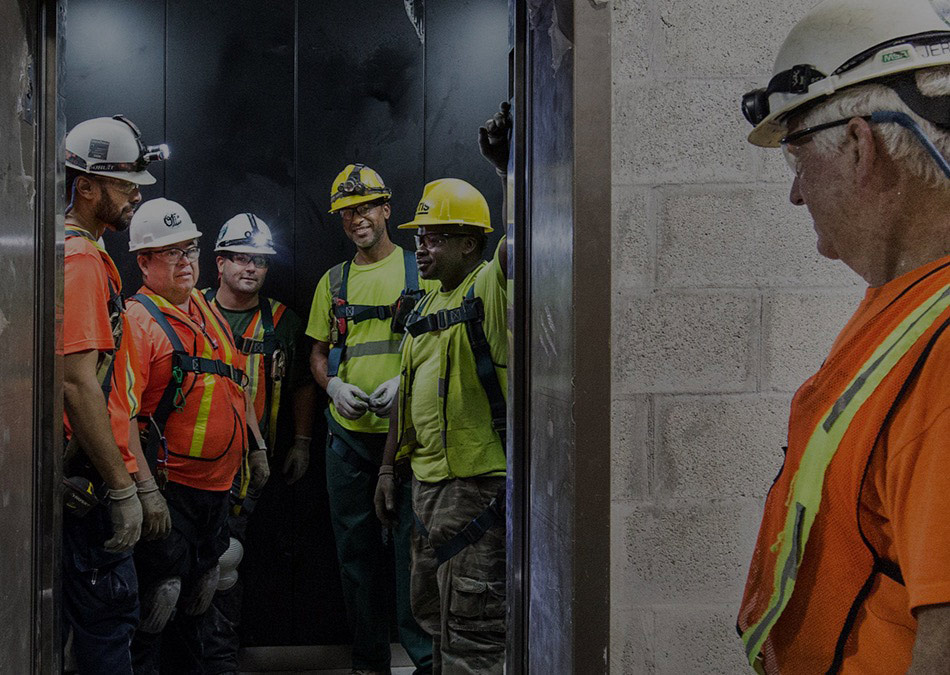 SkyBuild™
Max Rise 300m
Complete your building faster with our SkyBuild elevator. Years of high-rise experience and innovative engineering come together in our high-speed, self-climbing construction elevator.
Technology Born Of Experience
The SkyBuild construction elevator grows with your building, giving crews access to the highest completed floor. Once construction is complete, it goes straight into service as a SkyRise® elevator.
DOWNLOAD BROCHURE

Boost productivity with a safe, reliable, fast construction process
Allow crews to spend less time waiting and more time on the job

Gain 30 to 60 minutes of additional productive time every day

Move crews safely and quickly; say goodbye to slow external elevators

Execute climbs quickly during off-hours, limiting disruptions to your schedule

We can jump every floor, and we can jump anytime

1,600 kg
MAXIMUM STANDARD DUTY

3.5 m/s
TOP SPEED

300 m
MAX RISE
A Faster, Safer Way To The Top
The construction elevator reimagined, the SkyBuild system is a triumph of engineering and innovation. Designed to grow with your building, it gets workers where they need to be quickly and safely, saving you time and money.
1 Overhead protection

---

An angled deck protects crews from overhead hazards.
2 Working deck

---

Used by Otis crews to install additional elevator rails, allowing the SkyBuild system to climb as construction progresses.
3 Machine system platforms

---

Central to the system's unique design, the platforms support the SkyMotion® machine, controller, drive and travelling cable – components that become part of the permanent SkyRise elevator.
4 Hydraulic platform

---

The heart of the SkyRise system, the hydraulic piston moves the whole assembly upward in single-floor jumps.
5 Retractable support beams

---

The SkyBuild system is held in place by support beams that are retracted during the climbing operation.
6 Elevator cab

---

The construction elevator serves all floors below the SkyBuild assembly. Once construction is complete, it converts into the permanent SkyRise cab.

DOWNLOAD RENDERING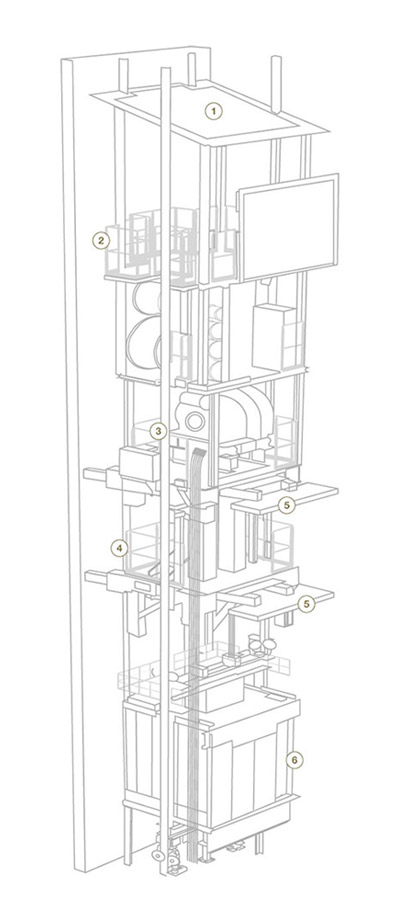 "SkyBuild was the smart solution for us. It shortened our schedule and reduced our costs. The Otis team brought tremendous knowledge to the job."
PHILIPPE ROUCHETTE • PROJECT DIRECTOR, TOUR GRANITE, PARIS • VINCI CONSTRUCTION, FRANCE
The SkyRise elevator: perfection comes to life
Your building will inspire for generations. Our mission is to bring your vision to life.
As our premier high-speed, high-rise elevator system, SkyRise offers a unique combination of flexibility in design, a superior passenger experience, industry-leading technologies, speed in construction, global organisational support and years of safe, reliable performance.