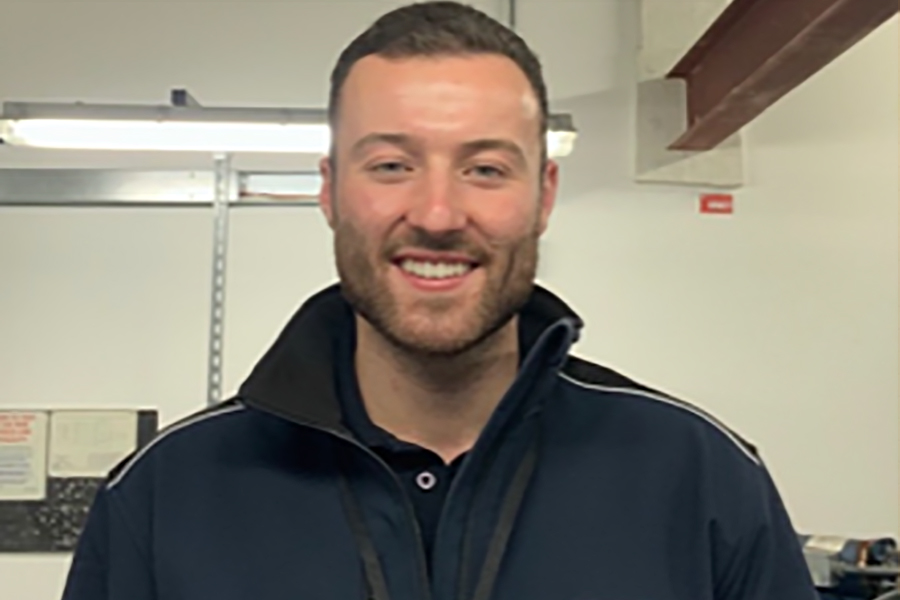 What did you do before your Otis apprenticeship?
The Otis apprenticeship was my very first career experience! Before Otis I studied for my GCSE's and AS Levels, whilst working at Sainsbury's part time and exploring where my passion and future could be. I have always been interested in problem solving from an early age and I knew I wanted to learn and earn in an industry with many avenues.
When did you start your apprenticeship?
I applied for my apprenticeship with Otis whilst in my first year of 6th form. The apprenticeship looked interesting, provided real world experience with continued education and was in a niche market. Following research and my successful interviews, I made the decision to leave 6th form and join Otis full time to start my journey into the lift industry. I attended my induction week at the Leicester office in September 2015 and after that week was place in the field with an engineer to learn the job.
What did you gain from your Otis apprenticeship?
During my apprenticeship I had the opportunity to network across the business, build strong relationships with colleagues and gain lots of experience in various scenarios. Examples of these scenarios include; working in the south-east in service repairs and mod, learning how to correctly and safely action all tasks whilst installed from day one. I have attained many skills since my apprenticeship, but my biggest achievement is going from the 17year old apprentice to a respected qualified engineer.
Do you feel taking part in an apprenticeship gave you any advantages at Otis?
Yes I do! Otis is the best in the business within the lift trade worldwide. Otis provides me with high standard training, the correct PPE and tooling as well as many opportunities in developing my career. Throughout the apprenticeship and beyond, if I need help, I know who to contact and I know I will be supported.
Tell us about your career since you completed your apprenticeship
Since qualifying in June 2018, I have been a lift service & callout engineer covering the south east of England. I work on all types of lifts & escalators and I'm always embracing new challenges. I take part in the out of hours callout rota, responding to emergencies and trapped passengers, as well as supporting repairs if they require assistance. One of the best things about this career, is that no two days are the same and I'm forever learning on old and new equipment. I'm a huge believer in continued self-development, and Otis have definitely supported in this. I can't wait to see what is next for my career at Otis!
What advice would you give anyone considering an apprenticeship with Otis?
For anyone considering an apprenticeship and an exciting career at Otis, I would give my full recommendations. At Otis you will be exposed to a range of experiences, top quality training, build a great network, be supported in self development opportunities, be challenged to reach your full potential and most importantly enjoy every moment.