How specialized products for the maritime environment led one of the world's leading ship builders to turn to Otis
Next-generation cruise liners require durability, reliability and an elevated passenger experience. With expertise in this specialized market, Otis works alongside world-renowned ship builder Meyer Group to ensure these vessels were ready to meet crew and passenger expectations.

Unique Requirements
The always moving maritime environment is a challenge for the durability of materials at sea. This requires a specialized elevator design. To provide safe and efficient service for crew and guests, maritime elevators have specialized software configuration. In heavy rolling seas, the elevators on ships are programed to detect excessive motions and park automatically on pre-determined decks to avoid damage.
Servicing elevators and escalators on board cannot be managed like in buildings. To ensure elevators and escalators run smoothly and safely, the crew onboard are specifically trained by Otis and provided extensive remote support to perform routine checks and tackle issues.
Otis Innovation
For the first four vessels delivered by Meyer Shipyards, Otis transported and installed special operating features such as luggage mode, gangway deck mode and RFID-based priority service, ReGen drives for energy efficiency and also installed: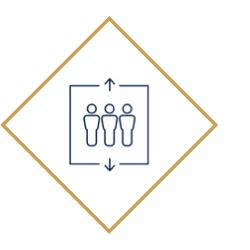 88 passenger elevators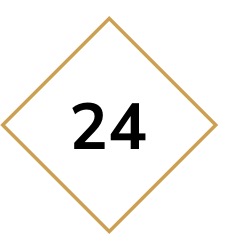 24 maritime escalators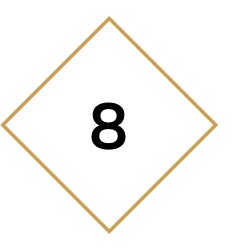 8 freight lifts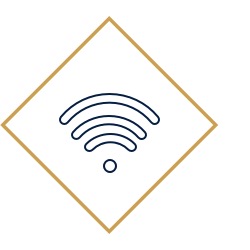 Remote support to perform routine checks and tackle issues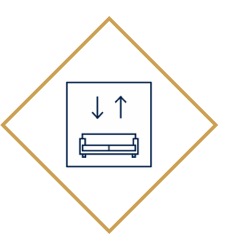 68 service elevators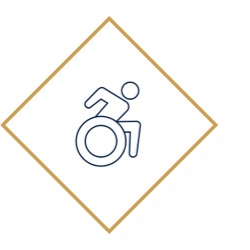 6 handicapped lifts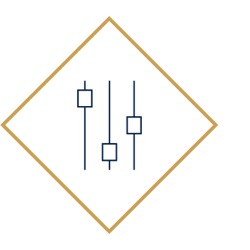 EMS PanoramaTM Elevator Management System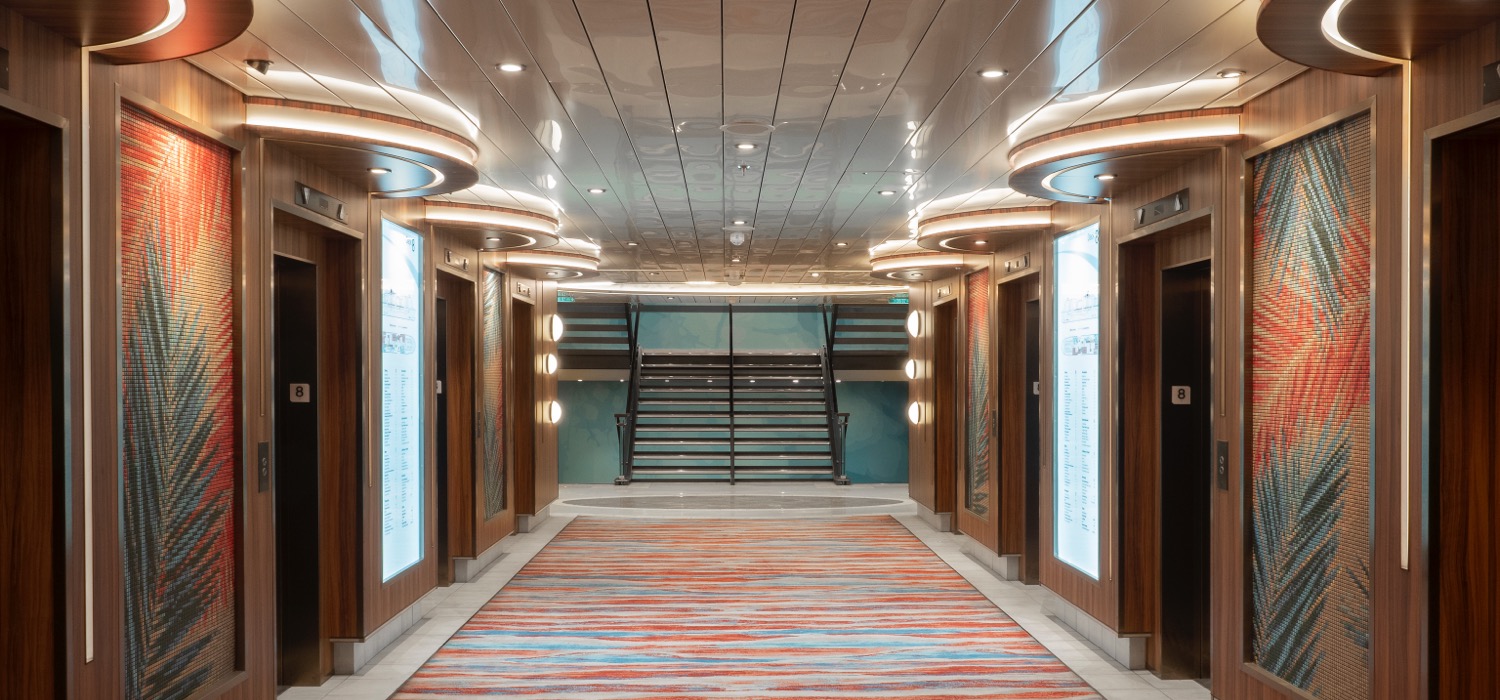 Otis delivered and installed more than 190 specialized elevators and escalators for four cruise ships
Performance and style
Elegance, refinement and style are words often associated with cruises.
Every detail on a ship contributes to that impression. Otis builds in aesthetics during project development and the elevators are customizable from car interiors to landing doors, so they match the ship's unique theme and design.
Elevators and escalators on cruise ships are subject to heavy traffic. On average, passenger lifts record 2,000 runs per day.
This figure reflects the important role elevators and escalators play in the comfort and experience of passengers and in the quality of service provided by the crew.
This is particularly noticeable during peak demand periods; for instance, when a large number of passengers board or get off the ship for trips on land.
Otis Marine: Experts in the maritime segment
With more than 100 years of experience in the marine industry, Otis Marine provides a single point of contact for customers in this unique segment.
Most units are manufactured at Otis' specialized factory in Vigo, Spain. Otis Marine products serve all marine segments, including cruise ships, ferries, commercial ships, offshore platforms and naval vessels.
Installation crews work in the shipyard as the vessel is being assembled. Otis Marine provides 24/7/365 service worldwide. Its products are certified by major Class Societies and complies with ISO8383.
Solution
As an industry leader with a strong history of meeting challenging building design, Otis was uniquely equipped to help Collins House and its developers meet their challenges. The solution included three Otis elevators – two SkyRise elevators and a Gen2 Premier elevator, which share a single triplex shaft.
The Gen2 travels between the basement and the 19th floor, while the SkyRise elevators operate from the ground level to the upper floors, changing to a duplex shaft after level 20. With a sustainable design, small footprint and lighter weight, the SkyRise elevators are perfectly suited for the skinny design of the building. They 're also among the most energy-efficient elevators available and offer stylish design and features to complement the building itself. All elevators leverage the Otis CompassPlus destination management system to help Collins House move beyond wait times and seamlessly transport passengers throughout the space.
Beyond developing the solutions themselves, Otis also helped ensure a fast, seamless installation under a number of constraints. Otis coordinated with builders and the city of Melbourne to obtain permits, schedule deliveries and operate hoist lifts at specified times that would minimize any disruption to public traffic, and fit within a carefully orchestrated process that included the other teams and trades on the project. As the project moved forward, Otis also worked to ensure that elevator shaft rail installation kept pace with swift building progress that leveraged a pre-cast elevator shaft and prefabricated floors.
---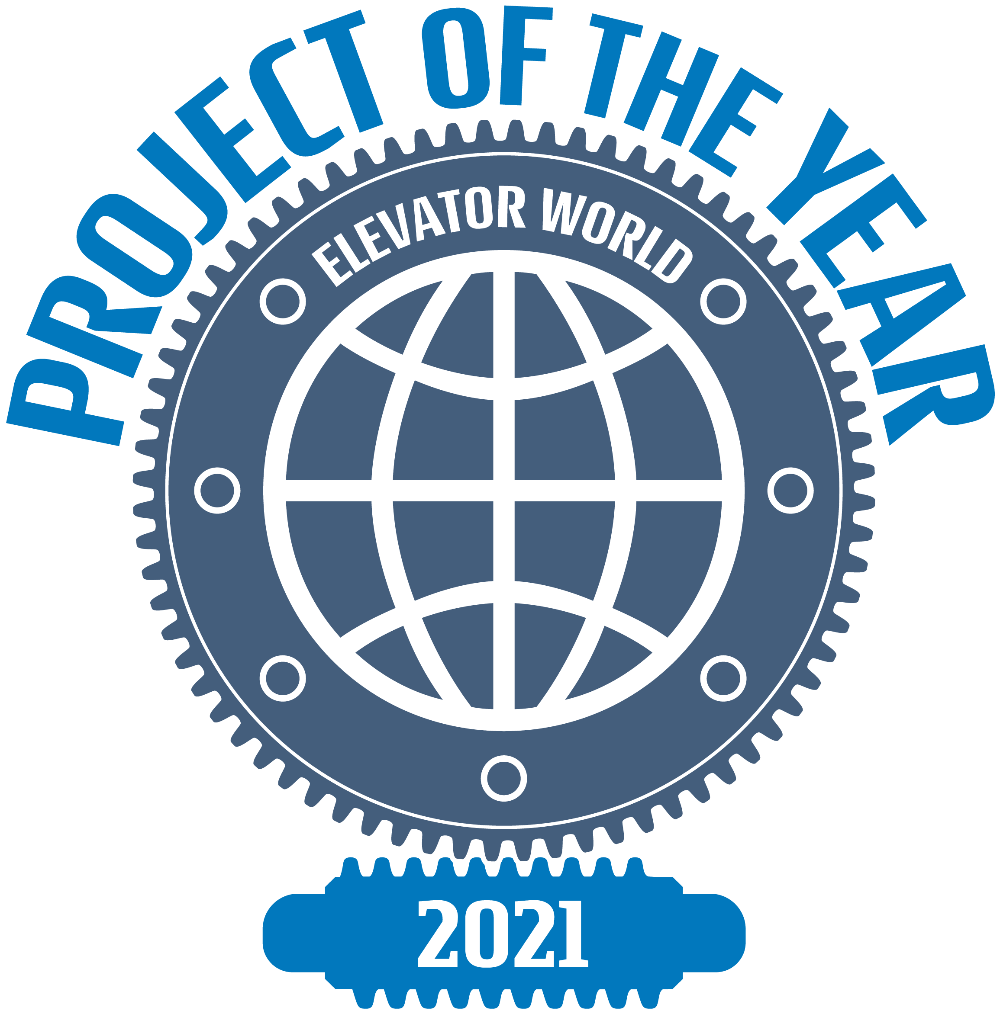 All in all, the project was a triumph not only in engineering design and innovation, but in effective communication and coordination. Opening in October 2019, the project was recognized as an Elevator World Project of the Year for 2021.