Advancing technology for today and tomorrow
Our newest escalator products are designed to mitigate risk, meet safety code requirements and promote safe and responsible use of escalators and moving walks.
In addition to investing in sanitization products, we encourage all passengers to follow their local guidelines on social distancing when using escalators and moving walks.
LED UV-C Handrail Sanitizer
UV-C wavelengths effectively sanitize handrail surfaces
Now more than ever, reducing bacteria and keeping shared spaces sanitary is of utmost importance to your riders.
Our LED UV-C Handrail Sanitization module is mounted internally on your escalator handrails to effectively sanitize handrail surfaces.
Fully guided, the handrail passes through the modules as it runs, exposing the handrail to sanitizing UV-C light .
Antimicrobial Handrail
Offer passengers a cleaner experience with handrails that actively kill bacteria
Otis now offers an antimicrobial handrail. Our specialized formula inhibits the growth of bacteria such as E. coli.
Using the same active ingredients found in other cosmetic products, the handrail effectively attacks bacteria which prevents it from spreading.
To give your riders peace of mind, we can also apply antimicrobial symbols to the handrail giving them the confidence they need to ride safely.
Request a quote
If you are interested in pricing or more information on these products, please fill out the form below.
Antimicrobial protection from top to bottom
When it comes to protecting your passengers, Our two new products go above and beyond in removing harmful bacteria from escalator handrails.
1 LED UV-C Handrail Sanitizer

---

This internally-mounted unit uses UV-C wavelengths to sanitize the handrail while it is in motion. After just ten cycles, 99.9% of E. coli bacteria on the surface will be killed.
2 Antimicrobial handrail

---

An antimicrobial coating effectively kills bacteria and germs on the handrail surface. Customize the look with an optional laser-engraved logo or symbol to indicate enhanced features.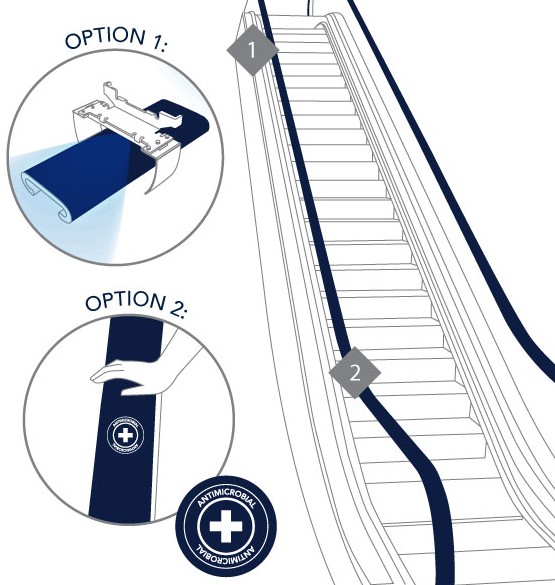 Making progress together
Otis resources for social distancing
As we navigate these unprecedented times, Otis continues to innovate solutions for our customers and passengers.
Please visit our resources page for a full suite of facility guidelines, downloadable signage, seamless and touchless technology solutions and more.
Upgrades and replacements
Investing in the future of your building
With less passengers in and out of your building, now is the perfect time to consider updates to your elevator.
Browse our new eCatalog to see our full range of products to improve the safety and performance of your elevator.
Node Name: OMUSCMSLFRPAP03